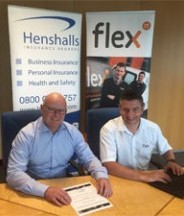 Security standards set at Henshalls thanks to the support of Flex IT
Shropshire insurance experts have successfully completed a nationally-recognised accreditation thanks to support from Flex IT.
Henshalls Insurance Brokers, in Newport and Shrewsbury, worked closely with us to meet the tough IASME Information Security Standard.
The status reflects the high level of cyber security measures they have in place and gives clients peace of mind that they are taking all necessary steps to protect their customers' information online.
Henshalls Director Anthony Hughes said: "We followed expert advice from the Flex IT team and they guided us through the whole IASME process from start to finish.
"The aim of the initiative was to prove that our management procedures and IT security meet the very strict criteria required by the Government.
"Thanks to the experts at Flex IT, we were able to work our way through the steps required to make sure we could prove that we are following best practice – their expertise and support when it came to meeting the required standards was invaluable."
The IASME standard was developed over several years to create an achievable cyber security standard for small companies.
Anthony said: "The International Standard ISO 27001 is comprehensive but it's extremely challenging for small companies to achieve and maintain.
"So the IASME was written along the same lines as ISO, but specifically for smaller companies – it's a much more realistic and affordable way for SMEs to prove they are meeting the required rules."
Appointed by the UK Government, the IASME Consortium is one of only four recognised cyber essentials accreditation bodies.
Henshalls' accreditation will now last for 12 months and they will be subject to continuous self-assessment and an independent annual review.
Pic: Anthony Hughes (left) from Henshalls and Matt Childerhouse from FlexIT