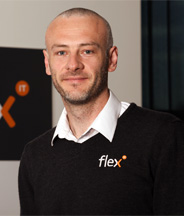 Shropshire IT Company welcome new Technician on-board
A new IT Technician has been appointed by expanding Shropshire IT Company, Flex Managed Services Limited (Flex IT).
Simon Tierney joined Flex IT, based in Old Potts Way, Shrewsbury, to strengthen the team and help support the company's expanding client base.
Simon has gained numerous technical qualifications and is currently in the final stages of completing his Computing and IT Degree with the Open University. His studies have enabled him to develop his skills further, acquire an expertise in a wide variety of technologies and gain a thorough knowledge on the latest developments within the industry.
Having worked in IT Support for over 10 years, Simon brings real value to the team.
Speaking about his new role, Simon said:
'Working on the Support Team has given me the opportunity to work with a range of different businesses in Shropshire'.

'I'm thrilled to be part of the team and I'm looking forward to working with a wide client-portfolio and facing new challenges.'
Director Adrian Key, who manages the team at Flex said:
'Simon helps our clients with technical support and he's often the first point of contact on the Flex IT helpdesk.'

'He is responsible for assessing and maintaining client IT systems and networks and he assists with network repair, servers and workstation problems.'

'Simon has also gained a wealth of experience working with Microsoft Technologies and Cisco Networking.'
Flex IT has been providing IT Solutions to clients for 15 years as part of local Accountancy firm, Dyke Yaxley.
Director, Adrian Key recognised the opportunity to outsource Dyke Yaxley's IT Services to clients and other local businesses, and since then the department has gone from strength to strength.
To give the team more recognition and identification as a professional IT Solutions provider, the company rebranded as Flex IT in 2014.
Adrian said:
'It's imperative that we provide customers with the best support possible, taking the stress away and allowing them to concentrate on the running of their business.'

'To have Simon on board will prove invaluable for the company. He has gained valuable experience working with businesses across Shrewsbury and Telford and I believe he will be a great attribute to the team.'

'Our growing team of highly-experienced technician's offer more than just IT Support. They work with our customers to ensure their IT Systems work for them and that they position their business exactly where they want it to be.'
For more information on Flex IT and the team, please visit www.flexit.co.uk.